Customer Cases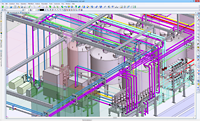 Workshop for Dairy Products Processing

The project is a newly redesigned dairy for mass production of food products. Three-dimensional parametric model of the workshop was developed using advance T-FLEX CAD tools for assembly and factory infrastructure design with high level of detail.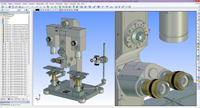 Comparison Microscope MS-1N

Microscope MS-1N (desktop comparison microscope) is typically used to identify sleeves from the place of incident. The microscope was manufactured in the amount of 26 pieces (for each region of Ukraine) by GP NPK "Photopribor" Cherkassy. The structure of the microscope includes optical head, stand, base, two lamps, and two slide tables.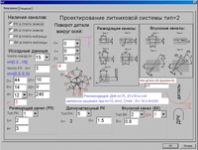 Multi-cavity Gating Systems of Molds

The project presents specialized CAD system based on T-FLEX CAD application.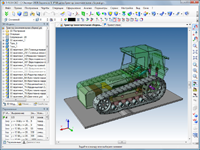 Crawler Tractor

The project presents parametric model of the crawler tractor with improved traction and coupling characteristics, with high level of comfort working on it.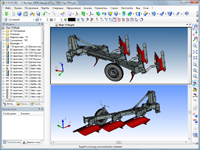 Plow

The project is a parametric model of the plow that allows you to choose one of two options of the plow construction: with three or four hulls.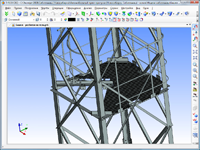 Tower

The "Tower" project is a 3D assembly made with a high degree of detail. The assembly includes 2171 bodies.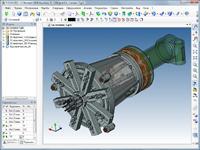 Parametric Model of Multi-spindle Drilling Head

Multi-spindle drilling head is designed to machine holes of parts such as "flanges". The goal was to design 6- and 8-spindle drilling heads.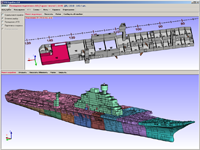 Technological Package of the Ship Modernization

The project provides technological package of tools for organizing the work to modernize the heavy aircraft cruiser into a full featured aircraft carrier.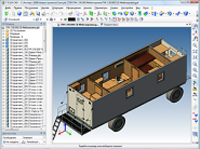 Working Module for Drillers

Station (module) of geological and technological research is designed for living and working for workers on the drilling wells. The walls and floor of the station (kung) are performed in several layers.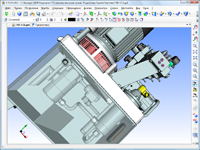 Pumping Unit

Pumping unit is designed to control the working bodies (cylinders) of the test bench for steering rods of cars.